Updated 29th June 2020
When people think of the wildlife of Childwall Woods and Fields, one of the first things to spring to mind is the birdlife, which is always present to be enjoyed by every visitor to this wonderful site. The site has produced over 40/60 species in the past, but numbers have dropped somewhat in recent times, although the rich variety of habitat still supports a diverse community of birdlife.  Old beech woods, younger deciduous tree plantations, bramble, grassy areas and young scrub all contribute to a matrix of different places for birds to use.
In order for us to gain a better understanding of the birdlife of the site, David, (FCWF President) committed himself to make 100 survey visits in 2019 to record the birds. Now completed, the survey continues into 2020.
Walks through the woods and fields generally take one to two hours each, at different times of the day and in various weather conditions.  Seeing and recording the different birds presents many challenges, starting with the observer's own skills at identification.
As the leaves of the trees and scrub plants develop through spring into summer, it becomes more difficult to see the birds, and the songs and calls they make become increasingly important for identification purposes.
Counting the birds on each occasion is more of an art than a science.  For instance, is the large mobile bird like a crow or jay, seen at one side of the site the same or different from the bird seen later on at the other side?  Or how, on a quiet sunny morning in the woods, do you count numbers of robins when there is a continuous wall of their singing as you walk?  Numbers counted on the day are extremely subjective, but do at least give some indication of their abundance.
So far to June 2020, a total number of 40 species has been recorded, which is 7 up from 2019, with an extra 4 species reported by other observers.
Last year, over-flying birds such as gulls were not included on the site list, but the rules have been changed this year so that all birds seen on the site and in the air are being counted.
Abundance scales:    VC  =  Very Common     C =  Common     OC = Occasional     R = Rare    
RESIDENT ALL YEAR

Blackbird  –  VC

Blue tit  –  VC

Bullfinch  –  OC

Buzzard  – C (Nov to May)

Carrion crow  –  VC

Canada Goose – R (Flyover)

Chaffinch  –  OC

Coal tit  –  R

Cormorant – R (Flyover)

Dunnock  –  OC

Feral Pigeon – OC

Goldcrest  –  R

Goldfinch  –  C

Great spotted woodpecker  –  OC

Great tit  – VC (Quiet from May)

Greenfinch  –  C (Quiet from Aug to Dec)

Herring gull – flies over

House sparrow  –  R

Jackdaw  –  OC  (Large numbers in January)

Jay  –  C

Kestrel  – R

Lesser black-backed gull – flies over

Linnet  –  C (in summer)

Long-tailed tit  –  OC

Magpie  –  VC

Nuthatch  –  C (Calling Feb to April)

Robin –  VC (Quiet July to mid-August)

Siskin  –  R

Song thrush  – VC (Singing Feb to July)

Sparrowhawk – R

Stock dove  –  OC

Treecreeper  –  R

Woodpigeon  –  VC

Wren  –  VC  (starts singing March)

SUMMER VISITORS

Blackcap  –  VC  (Early April to mid-July)

Chiffchaff  –  VC  (Mid-March to May)

Swift – R

Whitethroat  –  OC  (Mid-April to May)

Willow warbler  –  (Mid April – in passage?)

WINTER VISITOR

Redwing  –  R  (Nov – Feb )

 
That is 40 species unless you know different!
To these, we have added pheasant, spotted flycatcher and wheatear seen once each
this year by other observers. Finally, the tawny owl is an undoubted
inclusion as it has been heard on a security camera system recording
through the nights all winter 2019/2020.
If you have seen birds that are not on this list please email the details to bcfcwf@gmail.com  with as much information as you can give, such as date, time location and what the bird was doing at the time.
BIRD NOTES
Buzzards (1 or 2 at a time) are present from November through to May.  Sometimes they have been sitting in a tree around the corner and it is surprising how close one can get to them to see them in detail.
Great-spotted woodpecker – a really popular and familiar bird as its hammering signal to other woodpeckers can be heard throughout the woods.
The corvids make a major contribution to the birdlife of the site. The jay is a really noisy bird as it squawks at you through the trees and if you are lucky, you will be able to see its very colourful plumage. Magpies, always present, can be seen in large numbers (over 150 on one memorable occasion!). During the winter months, large flocks of jackdaws (400-600 at a time) can be seen from the Gateacre Shopping Precinct, congregating in the trees up the slope at dusk. They frequently make excursions to the Childwall woods, but with such numbers, it is almost impossible to count the carrion crows that mix in with them. Throughout the year, crows are almost always seen in ones and twos or slightly more, all over the site.
Even though the nuthatch is frequently heard during the spring, you will be fortunate indeed to catch sight of one.
Male song thrushes spend the entire breeding period (Feb to  July) with their repetitive songs marking their territories.  As many as six at a time can be located spread over the site.
Woodpigeons are guaranteed and sometimes gather together in their tens, whilst on one occasion in May more than 200 were seen in the poplars on the top field!
The cheery little wren frequently sings at you from the shrubbery close by throughout the breeding season (lucky you if you see it!) and then, like the robin, goes silent for a couple of months.
The summer migrant visitors are represented by four warblers. The first one to arrive is the chiffchaff around 19th March, almost to the day each year. The blackcap comes in early April, followed a week or so later by the whitethroat.  The willow warbler has been heard on single occasions in 2019 and 2020 as it was passing through on its migration journey and swifts have been spotted twice in June 2020
The only winter migrant to visit Childwall Woods and Fields is the redwing, which can be seen throughout the site, woods and fields.
Whilst the birds that show up in numbers hold the interest to the observer, it is the species making single or rare appearances that add extra excitement.  In March 2019 a house sparrow was heard in the trees by the concrete path near the TV studios carpark, and then never again! Bullfinch, goldcrest, kestrel, make rare visits. Sparrowhawk, swift, siskin – each seen once to date.
The tawny owl has presented a problem right through the survey. Although a tawny owl has not been seen yet during the survey, a couple of people say they have heard one at night. However, this bird has been recorded many times through the winter 2019/2020 on a security camera in Childwall Abbey Road, providing convincing proof of its presence on the site.
Finally, we reach the odd-balls, the ones that should never have been seen! Cormorants and Canada geese have gone over on a couple of occasions in spring 2020. And what was a pheasant doing in the plantation on the middle field? The spotted flycatcher and wheatear seen at the edge of the top field are definite migrants passing through. What next?
Author:
David G Holland MSc CEnv MCIEEM
Consultant Ecologist
President, Friends of Childwall Woods and Fields
Photo Gallery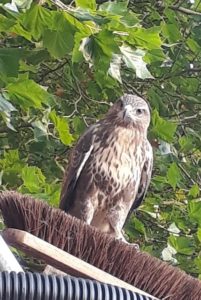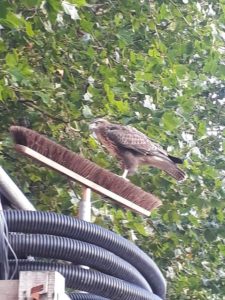 Here is our Childwall Woods and Fields Buzzard paying a visit to our neighbours at Lime Pictures.
Photos courtesy of Cal Sedgwick, Lime Pictures.
<<<<<<<<<<<<<<<<<<<<<<<<<<<<<<<<<<<<<<<<<<<<<<<<<<<<<<<<<<<<<<<<<<<
Nuthatches nesting in the Veteran Sweet Chestnut at the end of the carriageway.
(Best seen on full screen)
B Cameron 14/5/20