Location:
Grid ref SJ 42165 88793    W3W ///lifts.letter.finely
Champion Trees are the largest and tallest trees in Britain, and Childwall Woods is proud to have a champion tree of its own amongst its many beautiful specimens.
The Tree Register of Britain and Ireland (TROBI) is a record of all the spectacular trees in Britain and Ireland and it has been confirmed that Childwall Woods is the home of a new Lancashire Champion.  (It seems we are still in Lancashire).
You will no doubt have walked past our champion tree without giving it a second look if you have walked past the Folly on the main path next to the carriageway. It is one of many beautiful oaks in our woods, but this one is different. The dark green leaves of an English Oak are uniquely patterned with creamy white. No two leaves the same, as unique as snowflakes.
Only 54 sites across all of Britain and Ireland are known to have such a tree and Childwall Woods is one of them.
There are only 69 specimens of variegated common oak on the Tree Register, although we are told that this is probably because many of the oldest trees have reverted back and now have typical green leaves.
Not so with our specimen which has a creamy white ripple throughout each leaf.
The officials from the TROBI tell us that all old variegated oak will have been grafted and this one bears a graft mark at the bottom of its trunk with leaves below being plain green and everything above being variegated.  To create a variegated specimen of anything, an albino specimen has to be combined with a normal specimen, creating the two coloured rippled effect. A specialist and very expensive horticultural process.
From its size, girth 1.60m, and mossy condition, it appears that this tree was probably planted over 200 years ago by the wealthy owners at the time, Bamber Gascoyne Jnr and his wife. The rarity and cost of the tree highlight the importance of the area to the owners of the land. A beautiful woodland walk was created, down the steps from the pathway,  past a rare variegated oak tree, down more steps and into the Folly where more ornamental trees can be seen.
Variegated holly trees are all around this area and on top of what is locally known as 'Monkey Island', not to mention the unusual rhododendrons and Holm oak tree in this vicinity, reminding us of the wealthy owners who once went to the expense of creating this ornamental woodland walk.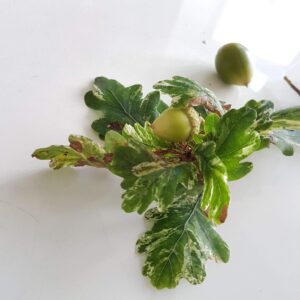 Although this is clearly a very old tree it has produced many acorns this year and another rare find, a variegated oak gall ( caused by a gall wasp egg).
BUT  WE DONT JUST HAVE ONE RARE TREE, WE HAVE TWO
Around the corner, past the clearing, is another variegated oak
Location :
Grid Ref   SJ 41285 88888    W3W  ///closet.turned.urban
This slightly small specimen (girth 1.34m) is nestled amongst the rhododendrons and you may have passed by oblivious to the clusters of cream and green leaves above you.
It was this specimen that was discovered first on 5th June 2020 that caused the search for other rareties and the new champion was found.
Not quite as big as the champion but recorded by the TROBI as the 14th largest variegated common oak in Britain and Ireland.
A tree of character and age as can be seen by its graft mark high on its trunk and above that the stub of an old branch.
Maybe not a champion but still considered a tree of importance by the TROBI.
Not the tallest, but still noticeable above the rhododendrons.
Here too ornamental rhododendrons can be found not far from the rare oak. It seems the ornamental woodland walk created over two centuries ago was continued past the Folly and on into the woods past the smaller variegated oak.
Maybe other arboreal gems, now hidden by the rhododendron, wait to be discovered by those who care to look.  We will keep you posted.
First published in August 2020 updated March 2021
B Cameron   Secretary of FCWF
All photographs are the author's own.
FOOTNOTE:
Our Champion tree was selected as one of 8 trees telling the story of 'The Story of Liverpool Through its Trees', where 8 trees tell the different stories of Liverpool from 1000yrs ago to today.
You can vote for our Champion Tree there too.