Updated 25/02/22
Work began April 2021 
Numbers to call in case of an emergency are listed below.
Lancashire Wildlife Trust:                        Steve Cowell 07740 419185
Friends of Childwall Woods & Fields:  John McCombs 07725 432464
Liverpool City Council (Landowner):  Helen Rawlinson 0151 233 7041
FRIENDS OF CHILDWALL WOODS AND FIELDS ARE AWARDED A SUBSTANTIAL GRANT TO IMPROVE OUR LOCAL NATURE RESERVE
The Friends of Childwall Woods and Fields have been granted £90,000 to spend on access and habitat improvements. The S106 funding from Liverpool City Council and a grant from Veolia Environmental Trust is a positive endorsement of the group's activities and future plans.
The money will be spent on much-needed improvements to the reserve including the pathways, allowing even more people to access this fantastic site. This year-long project will see the creation of a wetland environment, significant wildflowers being planted, invasive species better managed and trees planted. It will mean safer, easier access for the less mobile with improvements to many of the muddy pathways, improved signage and the installation of resting places. The project will also benefit the already abundant wildlife; the fungi, wildflowers, butterflies, squirrels, bats and owls.
Cllr Alan Tormey LibDems Childwall said "I can't praise the Friends highly enough. They have transformed the site in recent times; removing accumulated rubbish, clearing brambles and fallen branches, as well as completing conservation activities and public events to improve our understanding of the natural world on our doorstep. I have no doubt that the group will deliver the improvements the site so rightly deserves. Our green spaces have been a blessing during the COVID-19 crisis giving people respite from the confinement of lockdown and safe access to fresh air and exercise."
Liverpool City Council's Green Infrastructure Officer, Helen Rawlinson said:   "Working in partnership with the Friends groups empowers individuals to improve their local area giving communities a greater sense of pride. The project also contributes to promoting active lifestyles and reducing issues such as anti-social behaviour. Exploring the City's parks and green spaces helps us reconnect with the natural world and improve wellbeing. Childwall Woods and Fields is a special place to visit."
Jeff Sears, Director at Veolia Merseyside and Halton, said: "We are proud to have been able to support this important project with a Landfill Communities Fund grant. As part of the project will make the area more accessible, we look forward to seeing the benefits that it will bring to the community and wildlife for years to come."
John McCombs – Chair, Friends of Childwall Woods and Fields.                        December 2020
Notes on funding
Section 106 Grant Funding: Section 106 (s106) is the system by which councils extract contributions from developers via the planning system. Under S106 of the Town and Country Planning Act 1990, contributions can be sought from developers towards the costs of providing
community and social infrastructure, the need for which has arisen as a result of a new
development taking place. This funding is commonly known as 'Section 106'.
The Veolia Environmental Trust was established in 1997 under the Landfill Communities
Fund. Since then, Veolia has contributed over £85m to the Trust. These funds have been used
to support in excess of 2,400 community and environmental projects in England. Grant
monies are awarded only after a strict vetting and assessment of project proposals to ensure
the public benefit from the improvements.
———————————————————————————————-
THE MASTER PLAN
The Friends of Childwall Woods and Fields have a vision. To improve access, enabling greater enjoyment for people of all ages and interests. To improve the habitat, by reducing invasive species whilst increasing biodiversity.  In 2020, alongside a successful application to the Veolia Environmental Trust, the Friends were allocated funds by Liverpool City Council making the project a reality.
Background
Childwall Woods, which made up the grounds of Childwall Hall, has remained virtually unchanged since they were planted in the 1700s. Childwall Fields was once known as Childwall Park, a grassy slope that was landfilled in the 1960s and 70s and restored as 3 tiers of open grassland leading up to the wood. Although the Hall has gone, the landfill was long forgotten and consumed by Nature; it has left behind many reminders of the important role it played in shaping this beautiful Local Nature Reserve (LNR) we now call Childwall Woods and Fields. The 39-acre site is owned by Liverpool City Council, is part of the Mersey Forest and is managed collaboratively between the Friends of Childwall Woods and Fields (FCWF), Liverpool City Council (LCC) and Lancashire Wildlife Trust (LWT).
The current state of the historic and notable features: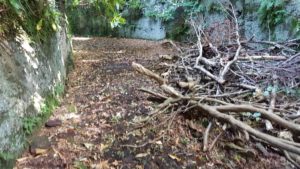 The Carriageway with its excavated and exposed sandstone block walls is a site of special geological interest. Its Bunter Sandstone base will make a perfect pathway once the accumulated leaf litter and vegetation is removed, the blockwork restored, and the overhanging branches trimmed back.  The carriageway led from the Gatehouse (reputedly by John Nash architect) with its castellated walls, to the hall itself via the passing place wide enough for two carriages to pass under the bridge.  The bend in the path would have created the great "reveal" of the monastic styled Hall itself in all its majesty. Conspicuous wealth was clearly on display for those visitors privileged enough to be invited to this once private residence.
Monkey Island as it is locally known; a sunken garden with large sandstone edifices was once part of the ornamental gardens of Childwall Hall. In days long gone, it was a place for picnics and to shade from the sun on summer days.  It is now home to the Woodland Trust's Lancashire Champion tree, a variegated oak (Quercus Rhobus Variegata). Sadly, the mud and brambles make it all but impossible to access, except for the most intrepid of explorers.
The "beech woods" known for their dense and crowded canopy are home to many acknowledged as veteran trees and despite the title, contain many different tree species. Over 100 species of wildflower have been recorded including protected English Bluebells, many species of birds (Over 70) including nuthatches, tree creepers etc. stinkhorn and oyster are amongst the hundred-plus species of fungi. Foxes, squirrels, pipistrelle bats and short-eared owls are also present. The rhododendron once valued as an ornamental plant for its colourful promiscuity has increased its territories at the expense of its near neighbours and needs to be significantly condensed whilst preserving the rare specimens.
The Fields once a distinct and separate habitat that invited a wholly different range of species are now sadly becoming a mini woodland of their own. Small bushes and saplings have established themselves amongst the overrun of invasive plants. Japanese Knotweed, bramble, Himalayan Balsam and others litter the landscape where the perimeter path once had clear far-reaching views from the Childwall Ridge to the Lancashire and Cheshire Plains.
The project aims to contribute to The Friends core vision, for the natural environment of Childwall Woods and Fields Local Nature Reserve to thrive, be respected by visitors and be protected for future generations.
Click HERE to view 24 Frequently Asked Questions about the project.
The Vision
Local residents completing the user survey expressed a desire to retain the "wildness of the place". And it has to be remembered that this is a nature reserve, not a park. The hand of "man" should be only subtly in evidence. The requests were for improved access, more wildflowers and more wildlife.
The need to improve access would be met by reinstating and improving more than 1000lin.m of path surface quality and levels to enable year-round access for the less ambulant users.
Improving the footpath network and accessibility will increase footfall and potential impact on the site however good quality paths, interpretation and signage, regulate activity. Local people being connected to the place through volunteering will have a greater appreciation of the environment. It will discourage wandering off the paths, disturbance of natural habitats and misuse of the site.
Seating and Signage.
Seats, designed to be in keeping with the natural environment and made from milled tree baulks, will provide rest points along key routes and viewpoints. Low hanging branches will be removed over pathways and signage/interpretation will follow the principles of inclusive design.
Biodiversity:
Protecting and enhancing wildlife is at the core of the Friends vision. Wildflowers, wetland plants and trees will be planted in specific locations suited to their temperament. It will hopefully bring joy to the many site visitors.
Wetland Environment
Parts of the site are naturally wet with dense stands of bullrushes visible all year round. To increase biodiversity by attracting invertebrates, a wetland environment comprising a series of scrapes will be formed. This will, in turn, provide food for the birds and the bats and create a further distinct environment with the planting of specialised wetland plants. It is hoped that this new feature will retain sufficient water all year round attract new species and be enjoyed and respected by visitors.
History and heritage.
The project will result in historical features being revealed as vegetation is appropriately managed. Promoting the transformed site to a new audience will present greater opportunities for participation in activities such as heritage and local history walks.
The Site Master Plan Stage One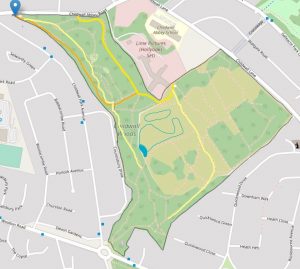 Key to the map
Paths being scraped and resurfaced Yellow
The carriageway scraped to reveal the sandstone floor. Orange
Wetland area with scape to retain water as a pond. Blue
The project.
Beginning early in 2021, the project aims to be completed within twelve months. The Health and Safety of the site visitors and workers is a critical concern.   Necessarily, there will interruption to the various paths and parts of the site as the works are undertaken. Warning signs, barriers, and a publication of the timetable on this site will advise the public. The works are also being planned to ensure the minimum negative impact on wildlife. e.g. Tree works to reduce the density of the woodland and to open up the canopy will be completed outside of the nesting season.
The proposed programme of works 
                                                                                                           Start Date                                 Finish Date
| | | |
| --- | --- | --- |
| Vegetation clearance along existing paths | Complete | |
| Removal and transport of fence panels | Complete | |
| Removal and disposal of concrete fence posts | Complete | |
| Top Field scrape and resurface the existing path | Complete | |
| Top Field create new path – Sub-base | Complete | |
| Scrape path from the gatehouse to grassland glades | Complete | |
| Childwall Abbey Rd Path install new path | Complete | |
| Timber for bat, owl, and bird boxes | Complete | |
| | | |
| Top Field create a new path – surface | Complete | |
| The path running out of woods onto the wet meadow | Complete | |
| Interpretation Panels design | Started | Ongoing |
| Clearance of Rhododendron along the carriageway | Complete | |
| Rhododendron clearance and treatment | Started | Ongoing |
| Carriageway scrape | Completed | |
| Top & Middle Field bramble flailing | Completed | |
| Top & Middle Field flail existing path | Completed | |
| Top & Middle Field mow and collect selected areas | Completed | |
| Top Field Pond and Scrape creation | Completed | |
| Top & Middle Field remove invasive trees | Begun | March '22 |
| Fencing of pond and dipping platform | March '22 | March '22 |
| Carriage Drive walls repointing | Completed | |
| Thin Plantation | Completed | |
| Woodland Thinning specialist work-regeneration | Feb '22 | March '22 |
| Meadow seeding | Begun | March '22 |
| Woodland Thinning regeneration | Feb '22 | March '22 |
| Restock Woodland wildflowers bulbs and seeds | March '22 | April '22 |
| Butterfly plants | March '22 | April '22 |
| Wetland planting | March '22 | March '22 |
| Orchard | March '22 | March '22 |
| Restock Woodland native understorey | March '22 | March '22 |
| Top Field install rustic bench seats | April '22 | May '22 |
Grassland Management on Childwall Fields – What are we cutting and why?
Childwall Fields is a habitat mosaic, meaning it includes a close mix of different habitat types; open grassland and marsh, bramble scrub, developing woodland and communities of tall herbs. These areas combine to give the Fields their character and nature conservation value, providing a home to a wide range of associated plants and wildlife. Marsh Orchids for instance, for which the Fields are noted, thrive in the open grassland, while scrubland birds such as Whitethroat, nest in the bramble and butterflies patrol the woodland edges.
Left to their own devices, however, certain habitats tend to dominate over time, open grassland giving way to encroaching bramble and this in turn to developing woodland.
Recent and ongoing management on the Fields aims to maintain the balance of the present mosaic through cutting some of the best open grassland areas and flailing back some edges on the encroaching bramble to keep this in check.
Additionally, some developing tree cover will be removed where this is starting to impact negatively within the wider mosaic, for instance where it is developing within better open grassland areas and starting to shade out the open grassland Orchid community.
Cutting some of the better open grassland areas will also have the benefit of breaking up the accumulated thatch within the grasses here, which will hopefully encourage more flowering species over time. To assist in this and promote diversity, an annual wildflower called Yellow Rattle will be seeded into the cut areas. This flower is parasitic on grasses and will help reduce their vigour, better allowing less competitive wildflowers to survive within the sward. Additionally, wildflower plugs will be planted within the grassland, adding to the overall diversity and helping develop areas of the open grassland as meadows. This has worked well in the past, with Ragged Robin, Devils Bit Scabious and Meadowsweet all being planted on the fields previously, and now freely spreading. Further work will include scrapes (shallow seasonal pools) and pond creation planned for the Fields in early 2022, which will develop pockets of wetness and add to the overall habitat mosaic present.
We've had some comments that it seems strange to be cutting areas of the Fields and while work can appear destructive, hopefully, it will be worth it in the long term to maintain and enhance their wildlife and habitat value. As ever there's a balance to be had so while some better areas will be cut, much of the open grassland will be left untouched to provide a refuge for small mammals and many of the invertebrate species associated with longer and tussocky grassland.
Adam Graham  – Lunt Meadows Reserve Officer for Lancashire Wildlife Trust     –      22nd November 2021
Volunteer opportunities.
The project will create opportunities for public volunteers to complete conservation works. Creating and installing bird boxes, bat boxes, clearing rhododendrons, trimming overgrowth etc. are just some of the activities that will provide new skills as well as outdoor exercise, an investment in well-being bringing benefits for years to come.  All volunteer events will be fully supervised by insured, trained and qualified individuals.
Visit the Volunteer Events page for more details and the Upcoming Events page to see how you can get involved.
John McCombs – Chair, Friends of Childwall Woods and Fields.