The Friends of Childwall Woods and Fields are being supported by several organisations to carry out a year-long programme of habitat and access improvements in our Local Nature Reserve.
As part of this programme, Kevin Curran of EARTHWORKS LIVERPOOL will be running volunteer activity days to improve the biodiversity of the various habitats.
During April, May and June we will be focusing on removing young trees that hinder species development by taking over and stopping the growth of native trees and ground flora.
The volunteer days will involve using hand tools to remove a range of vegetation, while also learning about all aspects of habitat management, and of course taking time to enjoy the site.
Sessions are open to everyone.
Young people under the age of 17 must be accompanied by a responsible adult.
We ask that you make sure you feel well to attend the sessions and bring your own refreshments, mask, sanitiser, gloves, strong footwear and appropriate clothing for the weather and activity.
All tools are provided.
The sessions are from 11 am to 1 pm and 1 pm to 3 pm in the woodlands south of the carriageway
Groups will meet at the Woolton Road entrance to the woods at the start of each session.
Dates:
April:              Saturday 17th and Sunday 25th
May:                Saturday 15th and Sunday 23rd
June:              Saturday 19th and Sunday 27th
July:               Saturday 17th and Sunday 25th 
BOOKING IN ADVANCE IS ESSENTIAL
To book on to a session please email earthworks.liverpool@gmail.com
Be sure to include your name, a contact number, and the date and time of the session you would like to attend.
         ……………………………………
The volunteer sessions have begun.
Kevin (Earthworks Liverpool) and the volunteers have started thinning out the southern woodlands.
Here are a few photos of a session in progress.
It's not supposed to be fun Cal and Lynsey although it certainly looks like you're having a good time.
Here are a couple of the guys getting stuck in.
A quick socially distanced chat before moving on to dead hedging to protect the bluebells.
What would we do without our volunteers?
Volunteers Gallery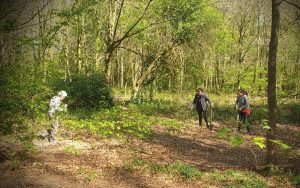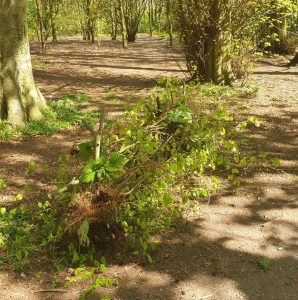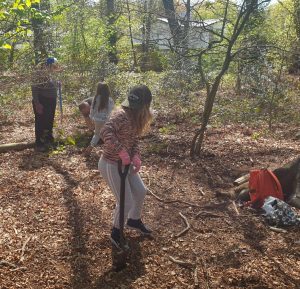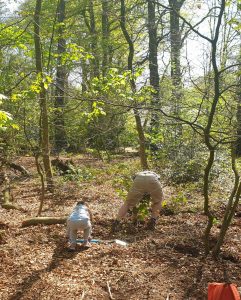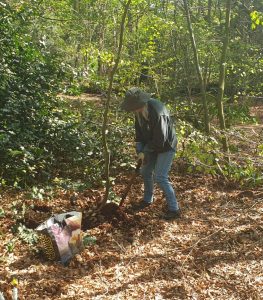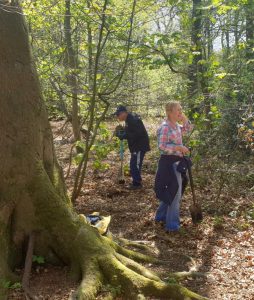 A huge THANK YOU to our other volunteers.
A big thank you to Mike O'Connell, Helen Minett and all the litter pickers who have kept our woods and fields looking so cared for during this period of high use. We may not have organised litter picks just yet, but with so many individuals picking up each day our nature reserve has never looked better.
Also a big THANK YOU to our lone diggers.
Geoff Bird, thanks for digging out the mud from the side entrance on Childwall Abbey Road and making it safe.
and
Ian Headey. Thanks for digging out the paths ALL around the site. It's made an incredible difference and unearthed some beautiful little paths from another era.
THANK YOU