This page is for members photographs that have been taken on the site, or anecdotes and comments. It's your page.
If you have something that you would like to share with everybody, send it to bcfcwf@gmail.com. A title and date would be helpful.
Childwall Woods?
The glade is one of the loveliest parts of the Childwall woods but not many members remember it when it looked like this.
You might be forgiven for thinking this was Sefton Park, but that was Childwall Woods in 1969 when there was a ranger employed to look after it.  Notice the Copper beech tree in the background still there today but twice the height.  The small tree with the flowers is a Horse chestnut tree, now hollowed but still alive.
2021 and the conker tree is still there but the rhododendrons have run wild. Those sticks on the right are the winter canes of wild raspberries. How did they get there?
Overgrown but perhaps a bit of TLC will help to turn back the clock.  Any volunteers?
Thanks to Ian Headey (our unpaid path clearer) for finding and sending in those photos.
Rainy January
What happens when it rains for days?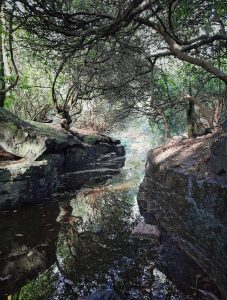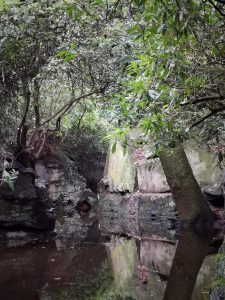 The folly fills up like a water feature.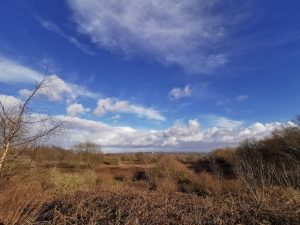 There are still plenty of drier places though.
And there are many unique and stunning sights to see.
Thank you to Jason Griffiths for letting us use these wonderful pictures.   22nd Jan 2021
 Jason says he is a newcomer to Childwall Woods and Fields but will be a regular visitor from now on.  (That is always happening.)
Wet and Snowy
It may be wet and snowy but there's always something interesting and beautiful on site.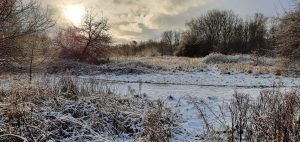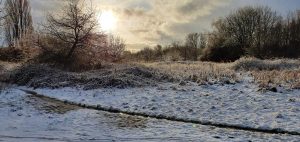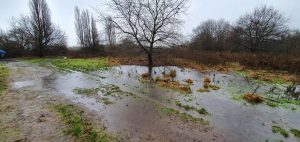 Photos by Nick Best 22nd Jan 2021
The fields 
Here are some stunning views of the fields sent in by Nick Best who definitely knows his way around the site.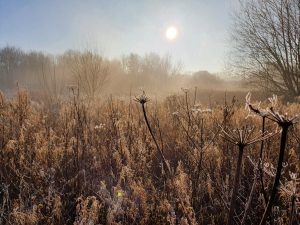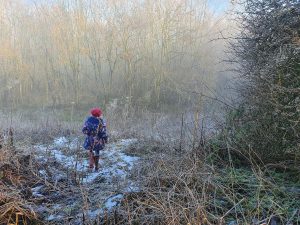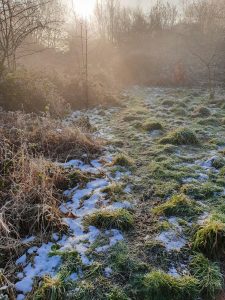 16th January 2021  By Nick Best
Winter Sunshine
Even the watery sunshine of January looks beautiful in Childwall Woods.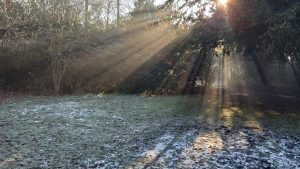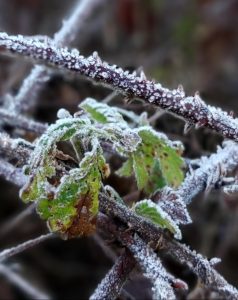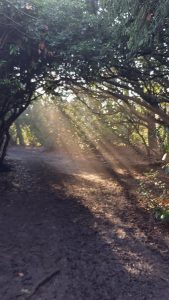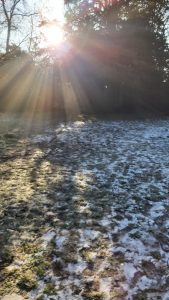 Thanks to Carolyn Beiert for these lovely winter images.  (10th Jan 2021)
A Frosty Morning
Some beautiful images of the woods and fields on a frosty morning. 7th January 2021. From Cara Bartlett.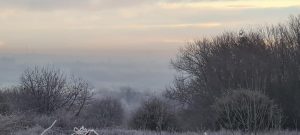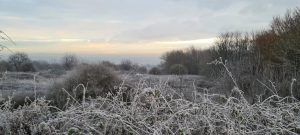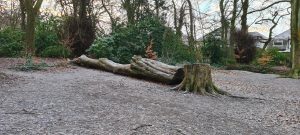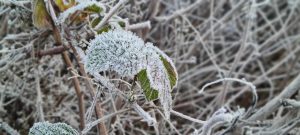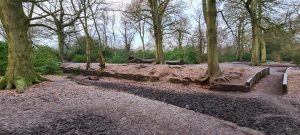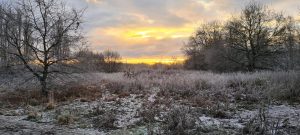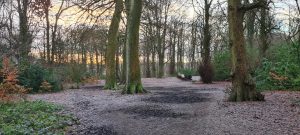 Thanks Cara.
A Dark Forest Walk
Lime Pictures Nursery went for a late walk in the woods just after sunset.
As Childwall Woods and Fields is a Local Nature Reserve there are restrictions on walking in there after sunset but Cal and the nursery children made sure they were out one hour after sunset to leave the animals to their nocturnal habits.    Thank you Lime Pictures Nursery.
Lime Pictures Nursery are often in the woods, and on Monday they shared the folly with a tiny friend.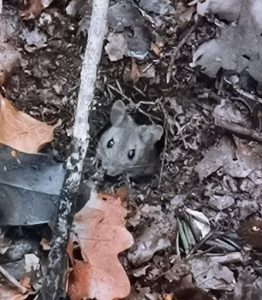 Photos courtesy of Cal Sedgwick, Lime Pictures Nursery. – Monday 14th December 2020
A memory of the woods.
In the 1990s I was asked to speak at a meeting because there was talk of the council selling the woods for houses. The reason I was asked was at that time I was chairman of Storeton Woods. The reaction to saving the woods was very rewarding. To me, Childwall woods was very romantic as my first girlfriend and I walked through there, unfortunately, she gave me the brush off, but that's life.
David Mann   Dec 2020