Trees have grown on the site of Childwall Woods long before it took that name. Now some of the oldest trees are recognised as Veteran Trees and Childwall Woods has 16 beautiful old chestnut and beech trees that have been verified by the Woodland Trust and can be seen on the Ancient Tree Inventory.
This walk will take you past them all.
There are some trees on very small paths that unsuitable for pushchairs and wheelchairs.  Strong shoes or trainers are recommended for summer months but walking boots or wellies are best in wetter months.
This walk will take approximately 1 and a half hours. Give yourself plenty of time as there's so much to see you will not want to rush.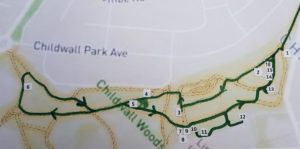 This walk starts at the main gates on Childwall Abbey Road
1 Walk straight ahead through the main gates and stay on the path that branches to the left. You will only need to walk a few steps along that path to see on your left a huge sweet chestnut tree.
This tree is in good health for its age of roughly 250 to 300 years old with a girth of 366 cm
The dogwalker in the bottom right-hand corner of this picture helps to give us an idea of the height of this tree
On close inspection, there are signs of its age.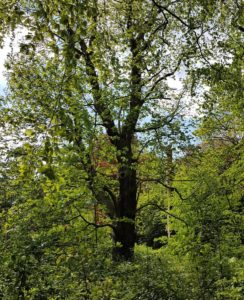 2.Tree 2 is on the main path that runs parallel to the carriageway and you need to go back to where the paths branch and take the middle path. Follow the path through the rhododendrons until you see the fallen branch on the left side of the path. There you will find tree 2.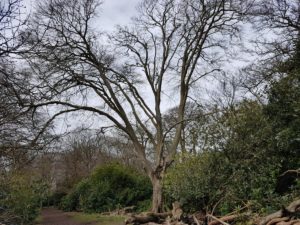 This magnificent  beech tree between 200 and 230 years old and has a girth of 3m 57cm
It has been dropping wood for a few years now resulting in some wonderful fungi outcrops along the path on the cut-up branch.