Although we are not able to start our regular events just yet it was felt by the committee of 'Friends' that small group events could begin and we should start with a maintenance event and a team of committee members only.
With our risk assessments in our pockets and hands carefully sanitised, we began our tidy up of the woods.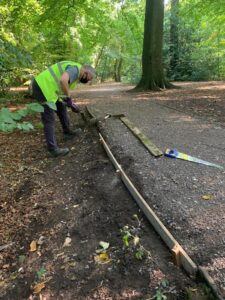 Andrew and John went off to replace rotten wooden edging on the paths so they wouldn't fall away at the edges.
Pam and David took on the challenge of the Folly,
12 months worth of leaf mould, compressed by hundreds of feet, doesn't come off those steps without a fight. And there are two sets of steps
But a thorough brushing over to get the last bits off and they look like new.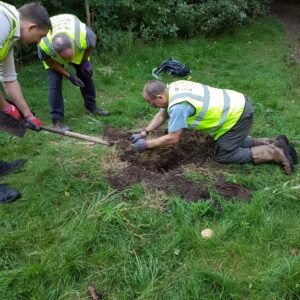 Then there was the area by the Folly.
A beautiful sunny glade to walk through to the carriageway.  A lovely grassy spot, except for a couple of stumps for walkers to avoid.  
How many Friends Committee Members does it take to dig up a stump?
Next time you walk in the woods you may notice the cleared steps and repaired path.  You may also notice that the brambles and nettles have been cut back on the muddy path by Lime Pictures so you won't get scratched or stung. You won't have to worry about low branches poking your face along the main paths any more, but will still have the pleasure of walking under leafy arches high above the path.
If you venture down to the old chapel remains you may notice that it has had a bit of a tidy up too, with a layer of ivy removed so that some of the main features can be more easily seen. Hidden history not so hidden any more.
Just 6 committee members, socially distanced from each other, doing a few jobs, keeping the woods looking tidy until things get back to normal.  Then you can all help.
Committee members present
John McCombs – Chair
Pam Leadbeater – Vice-Chair
David Howatson – Treasurer
Andrew Weighill – Secretary
Ben Turpin – Secretary
Brenda Cameron – Secretary and Author