Although the weather was really too wet for the art event, the maintenance and conservation volunteers were not that easily put off.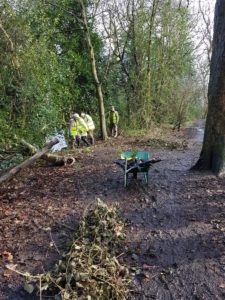 The hardy volunteer team had the task of planting 60 Holly trees along the boundary of Childwall Abbey Road where there is no fence but a 6ft drop down to the footpath below. The woods are higher than the wall at this point, posing quite a potential danger.
This is also a way in after the gate to the Nature Reserve is locked and this has been linked to fire damage and other antisocial behaviours in the woods and the local area at night.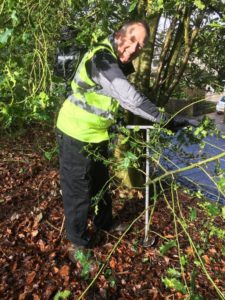 Here is Andrew, the event leader, drilling the first hole for the first Holly tree.  The drop down to the road can be clearly seen.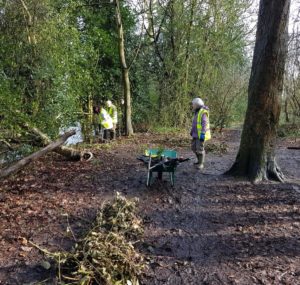 Our small team of 6, drilled and planted small trees, then covered them with cut brambles to protect them until they are more established and can form a barrier themselves. Until then the brambles will be the barrier, doing what brambles do best.
A busy 2 hours work if you include moving unsafe branches along the way and doing a quick litter pick as well.
At the end of the event, there is always Jeanette's scones to look forward to, complete with clotted cream, jam, and a hot drink. I wonder why we suddenly ended up with 7 volunteers?
Come and join us at our next event on Sunday 8th March, meeting at 11am by the gatehouse. There's always a scone and a friendly welcome.
Committee members present:
John McCombs
Pam Leadbeater
Andrew Weighill
David Howatson
Ben Turpin
Brenda Cameron  – author