It is not a secret that there are roughly 2000 square metres of Japanese Knotweed on the Childwall Fields.
You may have heard that Japanese Knotweed is an invasive species which, if left unchecked will overrun the whole site before moving out into the surrounding roads. It has a reputation for fracturing foundations and will eventually cause the demise of buildings in its path. A very scary weed.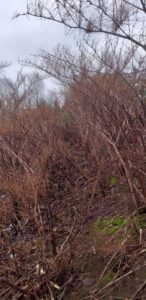 We don't have any buildings in our Local Nature Reserve but the advance of the Knotweed would eliminate the beautiful diverse habitat that we enjoy at present. This is the knotweed forest that would cover the fields if left unchecked.
You will notice the black stalks of the treated knotweed. All 2000 square metres were sprayed by 'Friends' President David Holland who is a Japanese Knotweed Specialist, (aren't we so lucky) and these remaining dead stalks need to be knocked down to expose the new shoots ready for spraying again this year. It may take 3 years or more to eliminate all the knotweed from the site but the fight has begun and as custodians of this unique and valued area, we are not about to let the knotweed win.
Here are some of the maintenance team, made up of committee members and volunteers from Friends of Childwall Woods and Fields who did the knotweed bashing.
Small groups tackled the knotweed on all fronts.
The instructions were to flatten the old dead stems so that the new shoots could be seen and sprayed with a systemic herbicide that would travel to the roots. Done year on year, this would eventually kill the root system.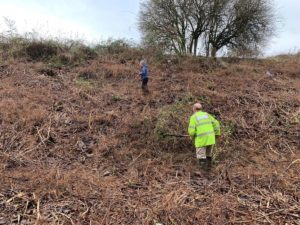 Two and a half hours later all 2000 square metres were flattened.
All a bit bloodied from the brambles but the whole team was rewarded in knowing that we were one up on the knotweed…. for now.
Within a few months, this years shoots will begin to push up and we will start the whole cycle again. But that's why Childwall Woods and Fields need Friends. Our precious green spaces need the care of a dedicated team of volunteers to maintain and care for them.
Why don't you come and join us?