The first event of the year got off to a brilliant start with good friends meeting and greeting.
Friends have been keeping the woods clear of litter for years now and many residents take a black bag into the woods each time they walk there. This has reduced the amount of litter left for our monthly picks and now we find ourselves able to concentrate on getting the triangle litter free and getting stuck into some of the many maintenance jobs that are always pressing.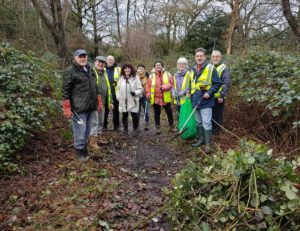 While one group was clearing the Childwall Triangle, Childwall Abbey Road, and the woods of litter, another group set about cutting back the huge patch of brambles that was closing off the paths by the main entrance.
Brambles are an important species in any wild environment and Friends are respectful of the role they play in sheltering wildlife, providing a home for birds and insects and as food to many creatures. HOWEVER, there has to be a balance imposed, or brambles will take over, changing the woods into a bramble patch. Great for blackberry jam but not much else. Widening the paths through the brambles is a prickly business but Friends are made of stronger stuff and battled through.
A pile of wood chips left by the council will help to keep the paths passible during this muddy season but that is a much bigger job and although started it will have to wait for another day……….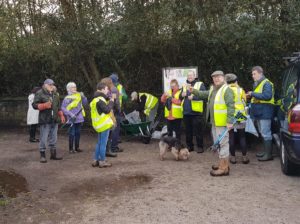 For now, the scones have arrived. Time to have a cuppa and one of Janettes famous scones. With cream and jam of course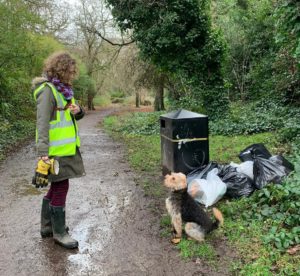 .
Here is the smallest member of Friends, Hamish, standing guard on our collection of rubbish. Such a good boy. Hope he got a scone or the doggy equivalent at least. 
Perhaps you'll join us next month. There's always plenty of jobs to be done, and plenty of scones too.