Scabious. Vetch. Cowslip. Ragged Robin. Knapweed. Greater Burnet.
What a fantastic collection of wildflower plugs to get growing on our top field.

And what a fantastic and varied crew to plant them on Sunday afternoon.
About 24 volunteers this week.

Some were planted in long grass in straight rows

Some planted in short
grass in batches and protected with pegged down netting to keep off
predators.
Yes – Predators. The magpies were watching and waiting till we had gone
to 'oik the precious babies out of their nests to get at the worms beneath.

A special thank you to Kevin and Adam, who gave a very good impression
that they knew what they were doing.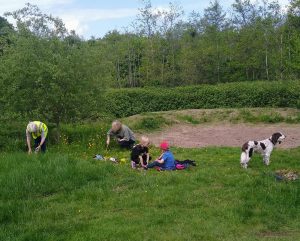 And a special thank you to our
volunteers prepared to risk sunburn on the day.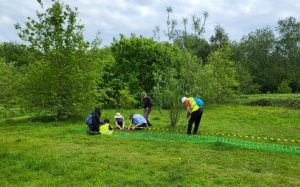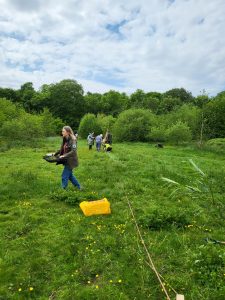 Trustees present 
Ian Heady            – Volunteer leader and author
Andrew Weighill  – Secretary
David Howatson – Treasurer
Brenda Cameron – Website Secretary