Twenty plus bags of litter, car parts, a chimney pot, the weather tattered remains of an encampment, the detritus from a champagne-drinking fly-tipper,  several vodka bottles (empty) as well as what appeared to amount to the contents of a compost heap.  No suggestion is made that such an inventory is a barometer of local lifestyles. They did amount to the results of one Sunday's litter pick organised by the Friends of Childwall Woods and Fields.
On this occasion, several roads that border our local nature reserve were also targeted and residents directly encouraged to participate with a concerted publicity campaign in the week prior to the event.
This is an area by the school on Childwall Lane before the cleanup.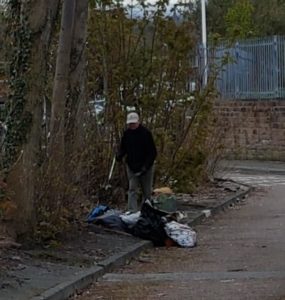 During the cleanup.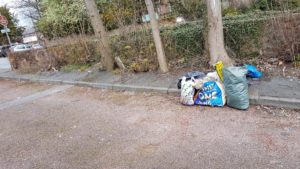 And after the cleanup.
Bags waiting to be collected. 
One area looking much better.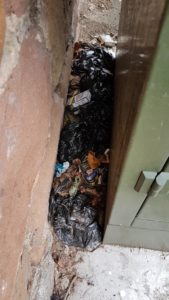 Behind the British Telecom Unit, just by Childwall Abbey School, there were roughly 50 bags of dog poo.
They were all removed.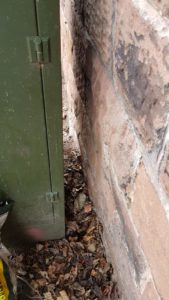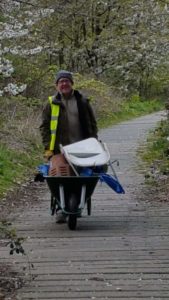 Our exertions were made somewhat less strenuous as this was the first litter-pick undertaken using the recently acquired equipment purchased through the High-Street Clean Up grant. The wheelbarrow alone making a significant difference in helping transport the heavier and often unexpected items across the undulating terrain.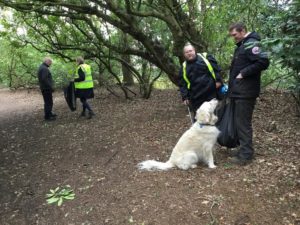 The event itself was well attended with six FCWF committee members,  3 politicians (Councillor Carole Storey, Councillor Jeremy Wolfson and his associate) a variety of dog-walkers and earnest members of the public including several younger participants aged 4-7.
The weather was kind and the collective mood good-natured as all participants wrestled with the latest battle in the unending war on litter.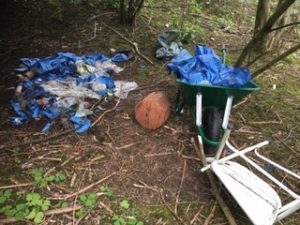 Before and after the event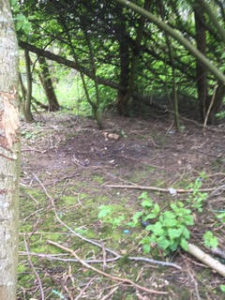 The participants were well rewarded with a hot drink and a homemade cake for their efforts.