The Veteran Trees of Childwall Woods.
Sunday 5th September 2021
It was a perfect day to look at the wonderful veteran trees that we are so fortunate to have in Childwall Woods.
Not quite ancient, veteran trees provide food and shelter for thousands of plants, animals, and fungi, including many rare and threatened species.
This is our veteran tree number 15. Hollow and hiding a secret inside.
We looked at some of the more unusual trees on the site too. This oak in the folly has gradually lifted the stone apart.  Just one of many unusual trees you can find in the woods if you know where to look.
Fungus plays a huge part in breaking down the wood that has fallen and we looked at some of the different ones around on the day.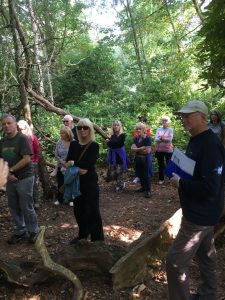 You may have spotted a small crowd of 'Friends' standing and listening to revelations about our veteran trees and our fungi.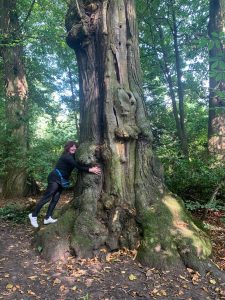 Or you may have seen some of the bigger specimens getting a hug.
Well they certainly deserve it.
If you are interested in learning more about veteran and ancient trees, visit The Ancient Tree Inventory you may recognise one or two.
Committee Present.
John McCombes  – Chair
Pam Leadbeater – Vice Chair
David Howatson – Treasurer
Brenda Cameron – Secretary, author and Event Leader.