A sunny start to the event saw our eager group of 13 cutting back the brambles covering the start of the carriageway.
Some of the group went off to plant grass seed on the verges of the paths still muddy and bare after their recent construction.
One group had the old lodge in their sights, and went off to excavate the ruins that can just be seen if you know where to look.
The 1888 map shows the second lodge just off the path from the Woolton Road entrance.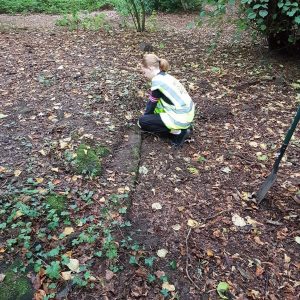 Hannah started the excavation by uncovering remains of the garden wall at the front of the lodge.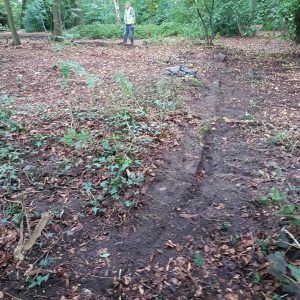 By the end of  the event 3 of us had dug around the ruins exposing the right hand side of the gardens shown on the map.
A great job was done by all with brambles dug out and verges sown with grass seed.  Very soon it was scone time.
Scone and chat time after the cutting and digging. Thank you for the delicious scones and coffee Jeanette, they hit the spot perfectly.
Well earned by everybody.
See you all the third week in October.
Committee Present 
John McCombs – Chair
Pam Leadbeater – Vice Chair
Andrew Weighill – Secretary
David Howatson – Treasurer
Ian Heady – Volunteer Lead
Brenda Cameron – Secretary – author