Silhouette Art Event – Sunday 3rd October 2021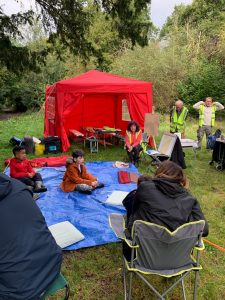 It was a bright and sunny morning at the start of the Silhouette Art Event. Helen greeted all the children and soon settled them on to comfortable cushions, which she had kindly provided.
Pam then led the children on a short walk through the woods to observe the trees, encouraging the children to look up and observe the shapes of the branches against the sky.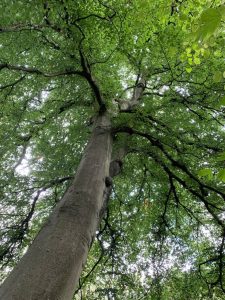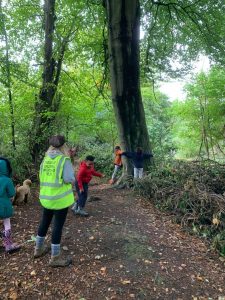 They learned a few new words, such as saplings, veteran &  ancient trees, and just some of their differences.
Then it was time to get creative, but, it wasn't long before the heavens opened up and thankfully Andrew, John & David quickly covered all the equipment, whilst the children made their way quickly into the gazebo.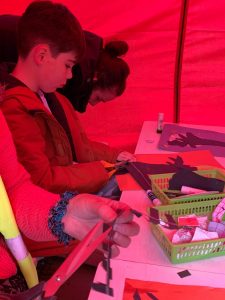 Undeterred by the rain, the children were just delighted to get started right away and parents took shelter under the huge yew tree close by and later came into the gazebo to give a hand with the cutting out.
A good time was had by all and some wonderful Silhouette Pictures were produced, which the children proudly held up for us all to see at the end.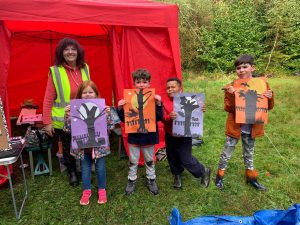 The children had refreshments near the end of the session and each child went home with a well-earned Certificate from The Friends.
Committee Members Present 
John McCombs – Chair
Pam Leadbeater – Vice-chair and author
Andrew Weighill – Secretary
David Howatson – Treasurer
*************
Special thanks to Helen Minett for her help and support.
*************
Photos by John McCombs