The walk to Beat the Winter Blues was aimed at doing just that. You don't need a prescription to walk in Childwall Woods and it does wonders for lifting your mood.
The rain and the Everton match put off all but the brave, and our hardy group of Friends complete with Rosie (my dog) strolled into the deserted winter woods to examine it's many secrets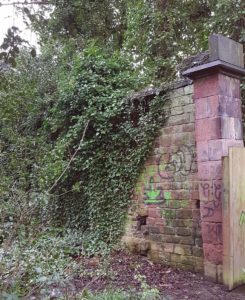 It wasn't a history walk although we looked at the hidden history on the site.
The wall of the Chapel that belonged to Childwall Hall. Now overgrown with ivy but sharing its secrets if you care to look.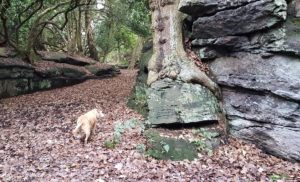 We ventured into the Folley that is known as Monkey Island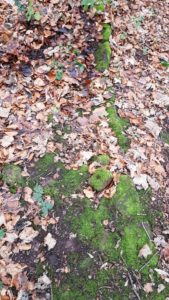 And we pushed the leaves and moss around until we found the foundations of the old Gatehouse shown on the 1904 map but now sadly disappeared.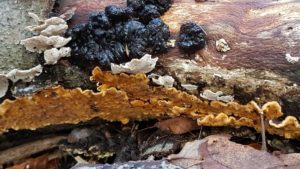 This wasn't a fungi walk but we saw many beautiful specimens of wood rot fungus and heard about their medicinal properties.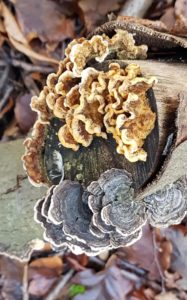 Here are Turkey Tail and Wooley Curtain Crust. The former used in Japan since 1980 for its anti-carcinogenic properties.
We found slime moulds. 'Its life Jim but not as we know it' with 243 different sexes.
Then there were the brackets. Huge black Artist Polypores, and the smaller striking white Lumpy Brackets popping out of forgotten logs.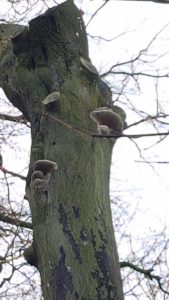 This wasn't a history walk or a fungi forage but celebration of all that makes Childwall Woods a wonderful place to stroll around – whatever the weather.
A walk in the woods with Friends finished off with coffee and mince pies, what could be better?!
Thanks again for the refreshments, Janette.
Committee attendees
John McCombs
Andrew Weighill
David Howatson
Ben Turpin
Brenda Cameron (author)