As our committee and volunteers complete another of our monthly litter picks, finding all sorts of waste, its worth considering the bigger issues.
Waste it is said… is just something in the wrong place. It's also said that in sufficient quantities, anything is a resource if… we can just find a use for it. The mantra is ReDuce, ReUse before ReCycle and ReCycle before ReFuse. Sustainability or at least the discussion of it is widespread. Sustainability, however, means different things to different people. Ask a thousand people and get a thousand answers. A good friend, a psychologist, talks of sustainable behaviours and sustainable relationships. Another friend who drives a Tesla (powered by green electricity of course!) talks about sustainability in terms of oil and petrol and proudly, of how many years it will be before the sun will run out of fuel.  Is that the whole picture? Making the judgement of what is less damaging to the planet can be a tough call. Singling out single use plastics is a good start, but plastics have their place. PVCu Double glazing that lasts twenty years, reduces energy usage and doesn't need treating with the traditional chemical preservatives called paint seems like a good decision. It's easy however, to get lost in the analysis paralysis of such decisions.
This new era needs a new way of thinking. I certainly don't want to be considered to be one of the guilty Generation, who's legacy to our children is so clearly articulated by the Greta Thunberg's of this world. I want to do my bit. Who can provide the steer? The United Nations know a thing or two. Their Sustainable Development Goals are a guide to preserving the planet for future generations. The 17 goals are a lofty ambition, signed up to by all UN nations, they seek to "…provide a shared blueprint for peace and prosperity for people and the planet, now and into the future".
It will come as no surprise that one particular goal close to my heart is number 15: Life on Land and it reads:
Protect, restore and promote sustainable use of terrestrial ecosystems, sustainably manage forests, combat desertification, and halt and reverse land degradation and halt biodiversity loss.
Who would have thought that by supporting and preserving our Local Nature Reserve of Childwall Woods and Fields we were contributing to a world-wide paradigm shift driven by the UN! To make this global change real it has to be government led and people powered.  Governments signing up to the goals without commitment is not enough. Top down and bottom up is always a good strategy. Governments need to legislate for change. Local people need to get together to look after their own corner of the planet.
The history of the human race is one of perceived "Progress" clothed as technological advancement. In a competitive-advantage driven world, the collective human impact gets lost in the push to plunder the land and seas in our search for resources without ever stopping to consider one simple truth: That just because we can do something doesn't always mean that we should do something. We humans have a significant (Unsustainable?) collective impact on the planet and have yet to gain the ability to think and act collectively. In these days of Strong-Men politicians and protectionist policies, isn't improving human (nation-to-nation) relationships through collaboration a better barometer of "Progress"? Are we more likely to save the planet working together than going our separate ways?
Closer to home here in Liverpool there are good things happening in the UN Goals and sustainability space. A local start-up is turning our plastic waste into creative practical products.  I look forward to visiting Plasticfanatics and seeing it all for myself very soon.
The Liverpool based "2030 Hub" is supporting businesses and institutions to integrate sustainable practices into their business model. They are also a new type of company a "B Corp". They see business as a force for good focusing on their social and environmental impact, not just the bottom line.
Those of you who have followed our previous litter pick reports may recall the small table/stool dumped in the woods and looking rather rejected and forlorn. The pupils at Childwall Abbey school as part of their Enterprise initiatives have turned it (and many other bits and pieces) into something worth keeping. See the before and after pics below.
And the underlying message throughout this blog is clearly; that we can all do our bit.
John                                         Chair – Friends of Childwall Woods and Fields. December 2019
Want to do your bit save the planet without having to travel miles to do so? There are conservation volunteer opportunities at Childwall Woods coming soon. Want to join our band of positive-thinking, right-minded citizens? Details of how to get in touch are also… below. I look forward to seeing you soon at one of our events.
The small table – before and after.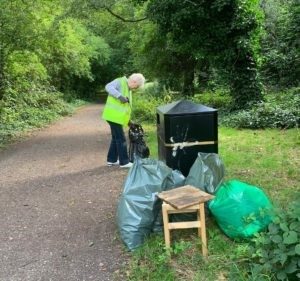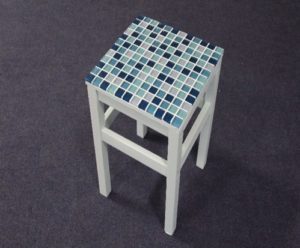 Want to know more about the UN SDGs? You can read more here: https://sustainabledevelopment.un.org/sdgs)
Want to know more about the PlasticTactics creative use of plastic? You can read more here: https://plastictactics.com
Want to know more about the 2030 Hub? Follow the link: https://the2030hub.com
Want to get involved? Contact us at:  bcfcwf@gmail.com