Childwall is very fortunate in having many groups of volunteers that make it a most desirable place to live, but it isn't very often that they all come together in one place to showcase what they do.
July 22nd at the triangle was one of those rare occasions when  Hope University Community Engagement Team, Childwall in Bloom, South Childwall Residents Association, Rubbish Friends (litter picking group), Childwall Abbey School,  All Saints Church, and Friends of Childwall Woods and Fields all stood together and offered residents a look at what is on offer in Childwall.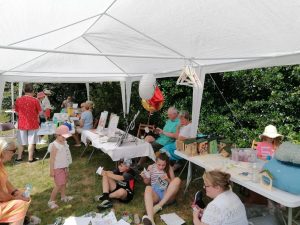 It was the perfect opportunity to ask members what sort of events they would like us to organise and we will be getting a few of those on offer in the future.
I hope you were one of our many members who came and said hello and told us what you would like to see going on.