The ECHO Environment Awards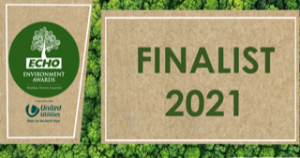 Celebrating Merseyside's Green Heroes
The annual ECHO Environment Awards is returning in 2021 with a virtual event.
Celebrating the achievements of those who have championed the environment
The Liverpool Echo –
'Safeguarding the environment and protecting our planet is one of the biggest challenges of our time.
And while the problem may be global, small changes at a local level can make a big difference.
Here at the Echo, we believe we have a huge role to play in championing the cause and highlighting the amazing work being done across Merseyside.'
'There are nine categories, recognising those who have led the way in healthy living and reducing waste, to investing in new technologies and educating others.'
Friends of Childwall Woods and Fields are proud to say we are FINALISTS in the
           Community Impact Award
This award recognises local communities working together, creating positive neighbourhood improvement projects, making the best use of green space, neighbours working together to make their neighbourhoods a safer and healthier place to live.
The finalists are:
Alley Angels

Friends of Childwall Woods and Fields

Lister Residents Association
Watch this space.