Sunday 3rd April 2022
The children set off from the main gate through the woods with their parents and were asked to spot any flowers along the way.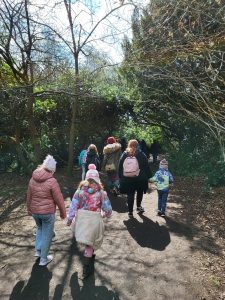 Although some spring flowers had already disappeared, such as the snowdrop, they soon spotted an area full of bright yellow daffodils and learned the names of other flowers, such as the 'early dog violet' and celandine.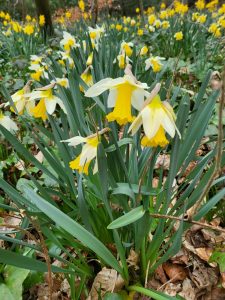 We spoke about the rhododendrons soon to bloom and took the children and parents off the main path to where there was an array of daffodils displaying a variety of colours and shapes.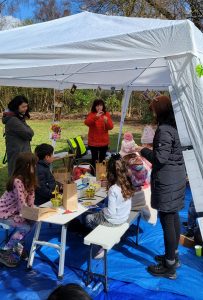 Then it was off to the gazebo to make paper sculptures of what they had seen growing in the woods, to arrange in colourful Easter baskets with additional imaginary flowers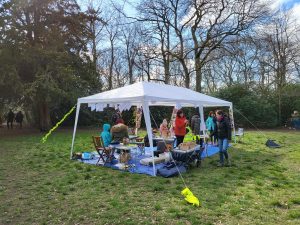 They also learned about the difference between a native bluebell & the Spanish variety.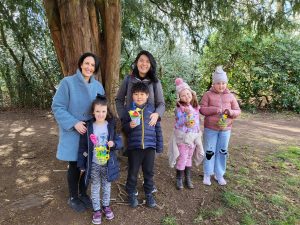 All their hard work & concentration paid off and they took their baskets home with pride, along with a certificate from The Friends and a chocolate Easter egg donated by Morrison's of Belle Vale.
Thanks go to:
Sian from Community Champion at Morrison's (Belle Vale) for the Easter Eggs
Andy from Iceland (Speke) for the bottles of water.
Loretta for the beautiful flower decorations.
£10 donation from Sue (from Taggart Ave) for a garland and 3 more that were donated by Sainsbury's Woolton.
Special thanks to Brenda, Alison and Erin in particular, for all their assistance. To Mark, Andrew, David and Colin for marshalling & carrying all the equipment.
Author: Pam Leadbeater, Vice-Chair and event leader.
Committee present 
Pam Leadbeater – Vice-Chair and event leader
Andrew Weighill – Membership Secretary
David Howatson – Treasurer
Brenda Cameron – Website Secretary and photographer.