Woodland Trust Veteran Tree Id: 202253
Grid ref SJ 41197 88969   W3W ///calls.flap.bared
Veteran Tree 14 is a huge beech tree on the side of the smaller path near to Childwall Abbey Road.
Ancient Characteristics 
Girth: 3m 84cm
Although still a beautiful tall tree, this beech is shedding its branches and entering its last stage of life.
On one side of its trunk is a very long deep hollow roughly 1.5metres long, probably originating from a branch fall but now providing the perfect environment for fungus, insects and bats.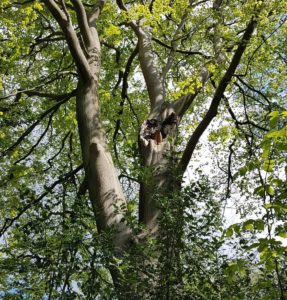 On the opposite side of the tree, you can see the massive scar of a branch that dropped in summer 2019. The scar is gaping and hollow and showing clearly where water had been gathering in the joint.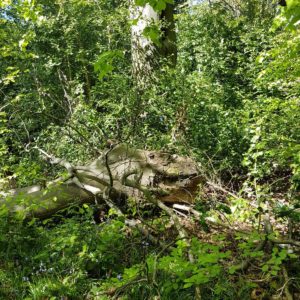 The branch that fell was itself huge and became too heavy for the tree to sustain.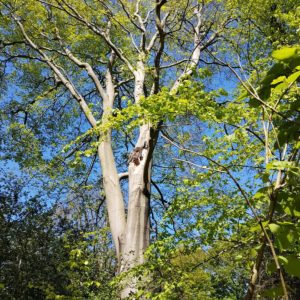 Other ancient characteristics include water ingress at the base of the trunk and splitting bark, both giving the fungi spores a chance to enter the heartwood and slowly hollow it out.
This impressive old veteran is likely to be 240 years old but with many years ahead of it providing a wonderful habitat for the woodland creatures.
Author: B Cameron
Secretary Friends of Childwall Woods and Fields
All photographs are the authors own unless indicated otherwise.