Woodland Trust Veteran Tree Id: 202186 
Grid ref SJ412378 88942   W3W ///builds.rests.words.
Veteran Tree 13 is an old twisted sweet chestnut tree overlooking the second folly by Childwall Abbey Road.
Ancient Characteristics
Girth 3m 50cm
This knarled old tree has stood overlooking the second, smaller folly for two or more centuries. It might have been there before the folly was excavated by the Gascoynes who owned Childwall Hall. See the History page 
Half of the bark is missing and the tree has shed most of its top branches making it very short and squat.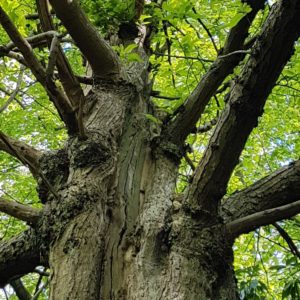 The open bark twists up the trunk exposing dead wood which is already showing signs of rotting and being eaten away by insects but gives the tree its character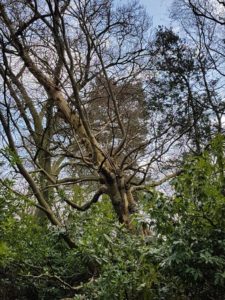 The crown of the tree has a high percentage of dead wood, a clear indicator that it is past its best and into its veteran stage.
Although it is clearly an old tree it is still an important tree as it goes on to hollow and creates the unique and rare environment only found in ancient trees.
UPDATE: 1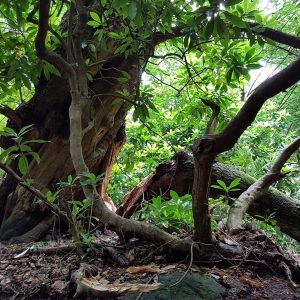 On 21st June 2020, the bottom branch was dropped.
Update 2: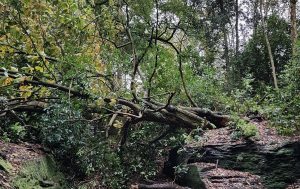 On 13th October 2020 our Veteran Tree Number 13 fell across the pathway.
Friends Chair John made short work of cutting away the smaller branches and making the route passable once more.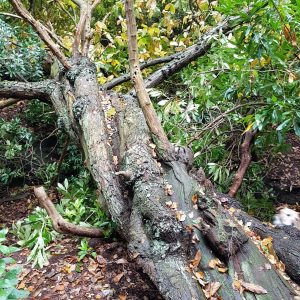 Still as wonderful on its side as it was when standing
The tree is now forming a beautiful arch over the path.
And if you look up as you go under you can see the woodpecker holes hidden when it was standing.
As the tree still has half its roots in the ground it may continue to grow and produce leaves each year.
Read what the National Trust says about Phoenix trees.
Author: B Cameron
Secretary Friends of Childwall Woods and Fields
All photographs are the authors own unless indicated otherwise.