Woodland Trust Veteran Tree Id: 202256
Grid ref SJ 41347 88882  W3W ///dips.allows.lofts
Veteran tree 12 is a massive beech tree situated very close to the site of the chapel that once belonged to Childwall Hall.
  Ancient Characteristics 
Girth: 3m 57cm
Broken branches can be clearly seen on this veteran beech well hidden by the younger trees around it.
Runs of water down the bark point to the water pockets in the branches causing rot at the joints and the eventual fall.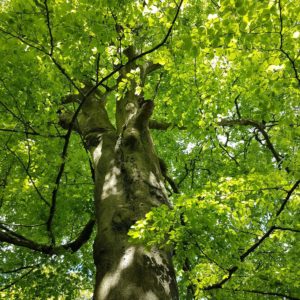 From below the scars of earlier falls can be seen but that is to be expected from a tree over 200 years old.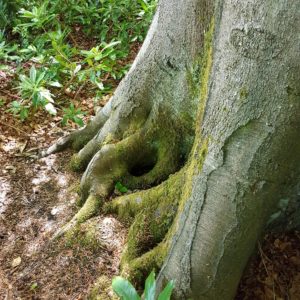 Water holes in the roots and moss patches on the bark encourage the breakdown of the bark and the ingress of fungi.
No major rotting of the trunk yet but the deadwood and rotting in the crown is a good indicator that this tree is past its best.
Author: B Cameron
Secretary Friends of Childwall Woods and Fields
All photographs are the authors own unless indicated otherwise.