Woodland Trust Veteran Tree Id: 202252
Grid ref SJ 41201 88889   W3W ///sculpture.bind.flesh 
Veteran tree 2 is a beech tree that all visitors to the woods will know. It stands by the main path near to the carriageway.
 
Ancient Characteristics 
Girth: 3m 57cm
There is damage to the bark and signs that historically branches have dropped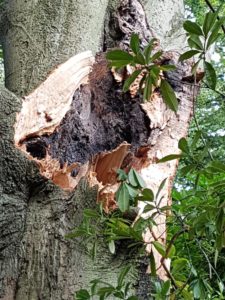 The last dropped branch left this huge scar on its trunk exposing wood rot and holes.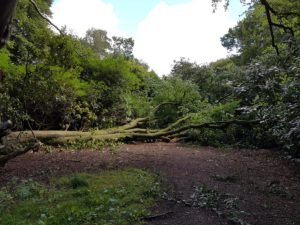 The last branch to drop in 2017 dropped across the main path and was the size of a 50yr old tree.
Its logs are there today giving us a beautiful show of fungus year on year.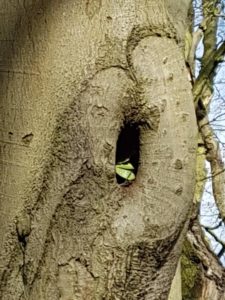 The scars from previous branch falls have hollowed and provide homes for small creatures.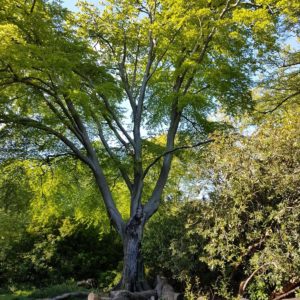 With deadwood in the crown and many holes and cavities for insects birds and small mammals, the tree is showing signs of decay. It may be 200 years old and past its best but it is a stunning veteran specimen.
Author: B Cameron
Secretary Friends of Childwall Woods and Fields
All photographs are the authors own unless indicated otherwise.