Woodland Trust Veteran Tree Id: 202152
Grid ref SJ 41410 88754    W3W  ///kind.bill.chop
Veteran Tree 7 is a very old sweet chestnut tree at the end of the carriageway.
 
Ancient Characteristics
Girth: 4m 60cm
This tree was once much taller but has lost the branches from its crown. It looks as if it has been cut many years ago but is more likely to be the result of wind breakage as this tree could be roughly 400yrs old and has seen many winters.
This wonderful Veteran tree is a living record of the many circumstances that have shaped its trunk and scattered its branches around. A feast for the eyes of walkers who pass by.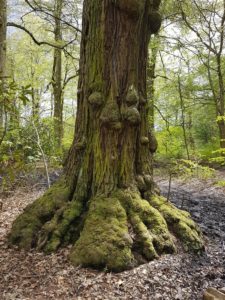 The base of this majestic tree is extremely wide with buttresses and it is covered with many burrs making it look extremely old.
With a girth over 4.5 metres, this is an impressive old tree.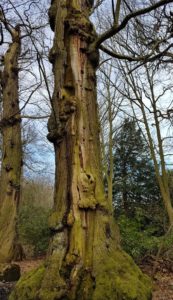 The bark on one side of this tree split many years ago and the exposed wood has been left to boring insects and woodpeckers who have filled it with many holes of different sizes. The larger woodpecker holes have since been turned into homes for small wild birds who dart in and out during the breeding season.
Very old and looking dead for most of the year, this tree bursts into life during late spring and shows it still has some years ahead of it.
As sweet chestnuts can live for over 700 years, this one may be around in Childwall Woods for many years to come hiding its residents from harm and as it hollows more, will become an important habitat for many more plants and birds, fungi, and insects.
Author: B Cameron
Secretary Friends of Childwall Woods and Fields
All photographs are the authors own unless indicated otherwise.