Bramble management is crucial on the fields where the patches of brambles grow so large they threaten to damage the vegetation around them. If left unchecked brambles will creep across large areas covering other vegetation and changing the nature of the woods and fields.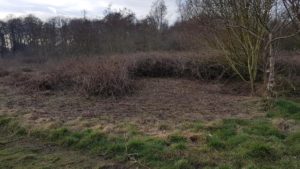 A team from the Trust for Conservation Volunteers (TCV) spent half a day cutting back the brambles across the top field to allow the vegetation to re-establish.  Six weeks on from this and already grass and small wildflowers can be seen growing where there had once been only brambles.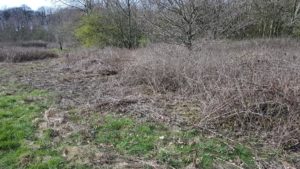 The brambles will continue to creep over the fields unless effort is continually put into managing them. Only a fraction of the brambles was cleared at this time and much more work is needed to keep paths clear and allow a diversity of vegetation to reappear, not only on the top field but on the other levels also.
Friends of Childwall Woods and Fields review the situation constantly and are planning further work in the months to come.