The history walk proved to be very popular as even the most persistent drizzle couldn't dampen the enthusiasm and curiosity of the group.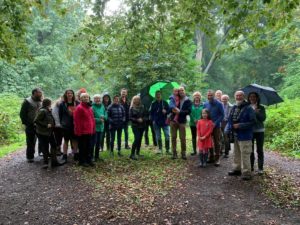 Childwall Woods and Fields gave up a few of its secrets to the group who heard about Childwall Hall and its links to the wealthy Gascoyne family. We explored the wonderful carriageway and follies that give us an idea of the grandeur that once was Childwall Hall and Grounds.
There were 10 points of interest on the trail that took us down the carriageway and onto the fields.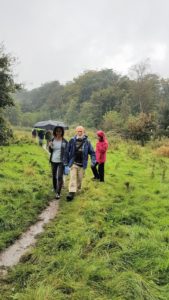 The Fields hold as many secrets as the woods, dating back to the time when they were called Childwall Park. But we will save those for another Hidden History walk.
No clues will be given away here as to the whereabouts of the second gatehouse or what the ruins at Countisbury Drive really are.
You will have to join us on our next Hidden History walk to find out.
On a sunny day, I hope.
Committee members present 
David Holland – President
John McCombs – Chair
David Howatson – Treasurer – Joint Leader
Andrew Weighill – Secretary
Ben Turpin – Secretary
Brenda Cameron – Secretary – Joint Leader
Plus over 20 other walkers.
Author: B Cameron