Woodland Trust Veteran Tree Id: 202183
Grid ref  SJ 41389 88749   W3W ///poems.jokes.tennis
Veteran Tree 9 is one of a group of 3 sweet chestnut trees at the end of the carriageway
Ancient Characteristics
Girth: 3m 50cm
This is the smallest of the group but just as impressive.
It too has the split bark from top to bottom and the exposed wood perforated by woodboring insects and woodpeckers. At least one hole inhabited by woodpeckers and another by nuthatches.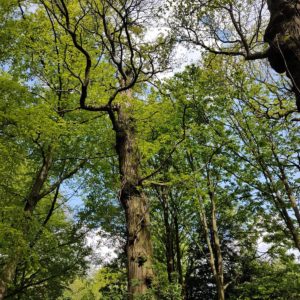 The crown of this tree is broken and twisted causing it to lose height and cover the area with dead branches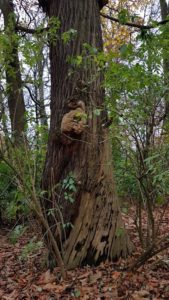 The base is beginning to rot and will eventually hollow providing a wonderfully rare and unique habitat inside. But for now, this is a veteran growing nearer to its last stage of life as an ancient tree.
Author: B Cameron
Secretary Friends of Childwall Woods and Fields
All photographs are the authors own unless indicated otherwise.